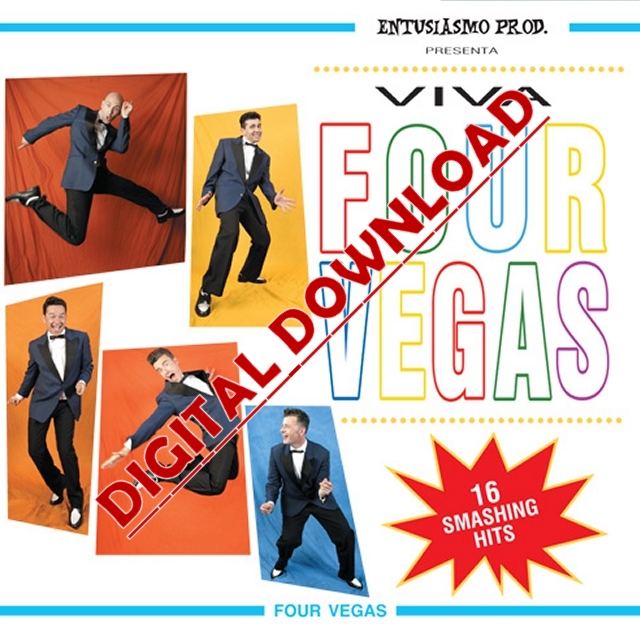 Viva Four Vegas (Digital Download)
Artista: Four Vegas
Data di Rilascio: 2008-02-03
Genere: Rocknroll
Prodotto Da : Entusiasmo Prod.
Prezzo: € 5
59 MB, file .zip (se non riuscite ad aprire il file, scaricate WinZip al seguente link).
Dopo l'acquisto, vi verrà inviata per email la conferma ed il link per scaricare il cd, che contiene 16 pezzi in formato mp3 in alta risoluzione. N.B. Una volta scaricato il file, non sarà più possibile scaricarlo.
Per problemi nell'apertura e nel download dei file, scriveteci su info@fourvegas.it e provvederemo a risolverli.
Tracklist:
01. Il Ribelle
02. Crazy Little Thing…
03. A Big Hunk O' Love
04. Sono Bugiardo
05. Stuck On You
06. Oh Pretty Woman
07. Dont' Be Cruel
08. Let's Twist Again
09. Whole Lot of Shakin'…
10. Jambalaya
11. You Never Can Tell
12. Americano
13. Surfin' USA
14. Always On My Mind
15. Great Balls of Fire
16. Viva Four Vegas
SUPER OFFERTA!
Tutta la nostra discografia (4 CD) in Digital Download a 15 €
Digita "4 dcd" nel campo sottostante "Codice prc" e premi il tasto "Applica codice promozionale
Compra Ora