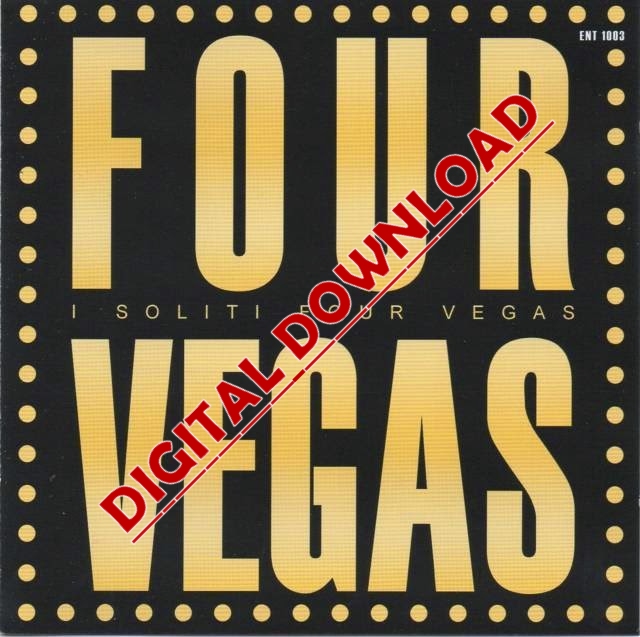 I Soliti Four Vegas (Digital Download)
Artista: Four Vegas
Data di Rilascio: 2011-02-03
Genere: Rocknroll
Prodotto Da : Entusiasmo Prod.
Prezzo: € 5
60 MB, file .zip (se non riuscite ad aprire il file, scaricate WinZip al seguente link).
Dopo l'acquisto, vi verrà inviata per email la conferma ed il link per scaricare il cd, che contiene 18 pezzi in formato mp3 in alta risoluzione. N.B. Una volta scaricato il file, non sarà più possibile scaricarlo.
Per problemi nell'apertura e nel download dei file, scriveteci su info@fourvegas.it e provvederemo a risolverli.
Tracklist:
01. Rock'n'Roll is here to stay
02. Shake rattle and roll
03. That is rockn'roll
04. Don't
05. Ready Teddy
06. Such a night
07. His latest flame
08. King of the whole wide…
09. Hound dog
10. It hurts me
11. Hello mary lou
12. I need your love tonight
13. Memphis Tennessee
14. Love me
15. Wildwood days
16. Lonely Weekends
17. You don't know me
18. Witchcraft
SUPER OFFERTA!
Tutta la nostra discografia (4 CD) in Digital Download a 15 €
Digita "4 dcd" nel campo sottostante "Codice prc" e premi il tasto "Applica codice promozionale
Compra Ora