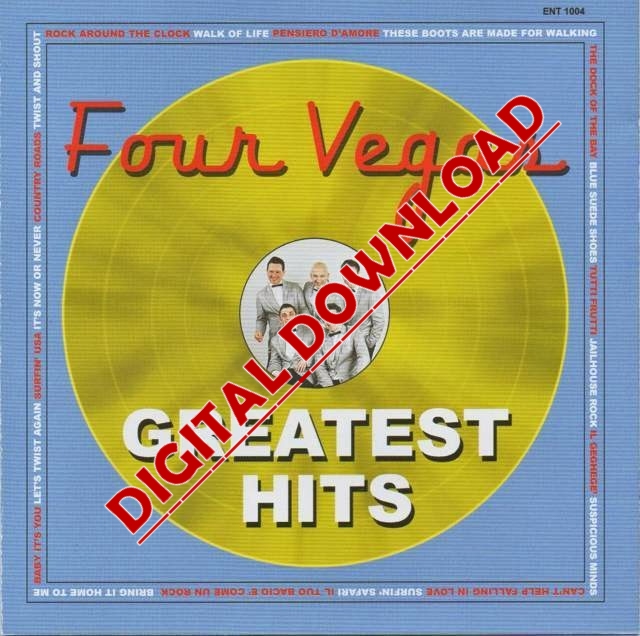 Greatest Hits (Digital Download)
Artista: Four Vegas
Data di Rilascio: 2014-06-03
Genere: Rocknroll
Prodotto Da : Entusiasmo Prod.
Prezzo: € 5
118 MB, file .zip (se non riuscite ad aprire il file, scaricate WinZip al seguente link).
Dopo l'acquisto, vi verrà inviata per email la conferma ed il link per scaricare il cd, che contiene 20 pezzi in formato mp3 in alta risoluzione. N.B. Una volta scaricato il file, non sarà più possibile scaricarlo.
Per problemi nell'apertura e nel download dei file, scriveteci su info@fourvegas.it e provvederemo a risolverli.
Tracklist:
01. Walk of life
02. Il tuo bacio è come un rock
03. Baby it's you
04. Surfin' Safari
05. Jailhouse Rock
06. The dock of the bay
07. It's now or never
08. Blue Suede Shoes
09. Take me home, country roads
10. Let's twist again
11. Surfin' USA
12. These boots are made…
13. Rock around the clock
14. Pensiero d'amore
15. Il Geghegè
16. Can't help falling in love…
17. Twist and Shout
18. Bring it home to me
19. Tutti Frutti
20. Suspicious Minds
SUPER OFFERTA!
Tutta la nostra discografia (4 CD) in Digital Download a 15 €
Digita "4 dcd" nel campo sottostante "Codice prc" e premi il tasto "Applica codice promozionale
Compra Ora