GREASE PARTY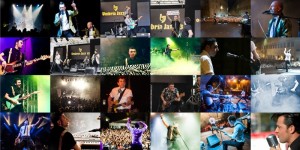 FOUR VEGAS Rock and Roll band is since a long time frequently aired on Italian TV such as RAI UNO, RAI DUE, RAI TRE, CANALE 5, ITALIA 1, RAI INTERNATIONAL and Sky Vivo (ex ch. 109).
Since 1999 they promote their passion for music and costumes of the 50s and 60s.
In their fabulous show named GREASE PARTY the songs list ranges from Rock And Roll to Twist (the Beatles, Ray Charles, Chuck Berry, the Beach Boys and many more) to Italian-American songs from the 50s – 60s (Dean Martin, Frank Sinatra and many more). From about fifty songs of Elvis Presley to Country music and from Italian Beat songs of the 60s up to famous sountracks such as GREASE, THE BLUES BROTHERS, DIRTY DANCING, HAPPY DAYS, FOOTLOSE, for a total of about 200 known songs.
More than two hours of funny and exhilarating show carried on with enthusiasm besides the obvious artistic skill.

FOUR VEGAS important latest gigs:
– RAI UNO FICTION "LA SPOSA", TV Appearance and Soundtrack
– LAST NIGHT EVE 2022 TRIESTE, Piazza Unità Di'Italia
– LAST NIGHT EVE 2017 TRENTO, Piazza Duomo
– UMBRIA JAZZ WINTER FESTIVAL – December / January 2014-15
– UMBRIA JAZZ 2014 – July 2014
– UMBRIA JAZZ 2013 – July 2013
– UMBRIA JAZZ WINTER FESTIVAL – December / January 2012-13
– SUMMER JAMBOREE FESTIVAL – August 2012
The band is formed by 5 elements:
Al Bianchi (voice and sex symbol)
Fabio Taddeo (guitar)
Valerio Bulzoni (piano)
Manuel Mele (bass)
Gino Ferrara (drums)
Discography:
VIVA FOUR VEGAS – 2008
GLI ORIGINALI – 2010
I SOLITI FOUR VEGAS – 2011
GREATEST HITS – 2014
If you are interested in organizing an event please contact:
Al Bianchi +393356875042
e-mail international@fourvegas.it to provide more information
or visit www.fourvegas.it